These five ways to make your association more member-centric are all you need if you're dreaming of a future of long-term growth and success for your organization. It's time to embrace a more member-centric approach to your recruitment, engagement, and retention strategies.
Your members are the backbone of your association, which is why maintaining their engagement and investment in your community is crucial to your association's success. In order to keep your members coming back for more on a regular basis and long into the future, you must stay in tune with their ever-evolving preferences, needs, and limitations and adapt accordingly. Putting your members' success first is what we call the "member-centric approach."
Are you ready to explore five key strategies you can use to make your association more member-centric? There's nothing we love discussing more, so let's dive in!
Focus on fulfilling their goals in order to fulfill your own
Have you ever heard the saying "You can't pour from an empty cup"? Well, when it comes to your association, think of your organization as the cup and your members as what fills it up. To achieve organizational growth and expand the impact of your mission, you first need to attract and retain enough members to sustain your efforts.
A member-centric approach is about honing in on the main objective: providing continuous value to your members through services and benefits aligned with their needs. The ASAE adds to this, stating how "a disciplined member-centric association may find that it needs to sunset products, programs, or services that haven't worked for years, and its leaders will engage members in conversations to create better outcomes."
Once you start listening to what your members are currently seeking to be successful as a professional and a part of your community and make supporting them accordingly a priority, you will develop a concrete foundation of engagement and investment to sustain your organizational goals.
Give your community a home base
Your members want to engage with your association for more than just the duration of your annual event. To support your members beyond a three-day period, you need to provide them with an environment where they can stay connected to your community and mission all year long.
Whether it's through a social media channel like a Facebook group or using a robust community engagement platform dedicated to your association alone, it's vital that your members have a home base to return to and connect with your content and community throughout the remaining 362 days a year that your event isn't live.
Speaking of the benefits of engaging your members in a year-round community, PsychologyToday notes how the approach can "yield long-term benefits by way of improved retention. This data can also help you justify additional investment in your community." The best part? Those benefits to your association will be a natural byproduct of enhancing how you connect with and support your community year-round.
Provide a variety of engagement opportunities
We've entered the age of ultimate personalization regarding how members choose to engage with the associations they belong to. If you want to truly embrace a member-centric approach, it's no longer enough to offer a single opportunity to actively engage with your organization a year. Your community wants to be continuously connected and collaborating.
Your members are looking to feel confident that even if they can't make it to your onsite event this time around, there are still plenty of opportunities to reap the benefits of belonging to your association in ways that do work with their lifestyle and schedule. This will look different for each association but should include a steady flow of insightful and relevant content and opportunities to network, collaborate, innovate, and grow collectively.
The customizability you offer will empower members to shape their experience in a way that is unique and fulfilling to their personal preferences. This, in turn, will keep them around far longer into the future, benefitting your organization's growth potential.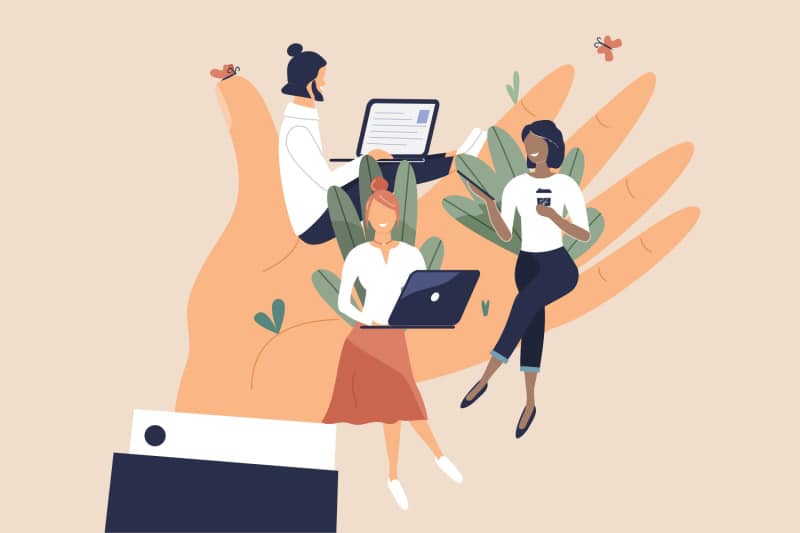 Empower your members to be active contributors
One of the best ways to make your members feel heard, represented and engaged is by empowering them to contribute to the content your association shares.
Not only will this alleviate some of the burdens of producing content for association leaders, but it will also ensure that the content you share is relevant, relatable, and more engaging because, hey, who knows what your members care about better than them?
It's important to remember that what's considered relevant can change very quickly, and it may no longer be in line with what first comes to mind for you when creating content. PsychologyToday importantly pointed out how, often, association leaders can "replace an accurate understanding of new association members with memories of ourselves as new members." That's why we suggest letting your members take the lead. Remember, if your community is creating the content that sustains its own engagement, it will be infinitely more captivating and rewarding to them.
Collect and apply data meaningfully
The last (but certainly not least) key to adopting a more member-centric approach is to focus on collecting meaningful data about members to tap into their evolving needs and preferences and adapt what you offer them accordingly.
Without concrete, data-driven comprehension of your current audience's experience, both the good and the bad, how can you expect to improve it? We love how CSAE put it: "Ultimately, member retention is more than just a singular number. Thinking about retention at a granular level will help you make more data-informed, strategic decisions that benefit your association."
The more you understand your members' world, the better equipped you'll be to make strategic decisions and develop offerings that work in favor of your association's community at large.
There you have it! Five fantastic strategies for your association to apply to become a bit more member-centric and a lot more impactful and long-lasting.