If the pandemic has shown us anything, it's that the need to connect and remain engaged is vital to our well-being. Humans by nature always seek to find their community; a survival mechanism that's intrinsic to all of us. Last year, as if overnight, events as we knew them came to a screeching standstill and we had to pause. We had to reflect. Then, we had to find innovative ways of fostering connection and continuing dialogue. Virtual events are not new, but what more in the events industry have now realized is just how powerful they can be. Now, we look to them as a crucial part of our long-term engagement strategy, not just a complement to in-person meetings or a hybrid event component. They provide a continuous link between an organization and its audience, when positioned as an ongoing virtual community.
Virtual events defy time and space
Throughout 2020, virtual events allowed us to meet on our own terms. Event content could persist through on-demand access. Conversations could be created pre and post-events. Virtual events provided accessibility. Speakers with groundbreaking research were able to present their findings via automatic translation tools and captioning, all from their home office. No matter where attendees were located, they wouldn't have to question travel, budget, or schedule—all they needed to know was the date and local time of the event. We could dive right in to creating deeper connections and the sharing of knowledge.
There are those who believe that virtual events are a temporary band-aid, but even when meeting in person is once more a prevalent option, not everyone will choose to travel. According to a 2020 Reed Exhibitions Report on how COVID-19 has impacted the events industry: 57% of attendees believe they can conduct the majority of their event objectives all online. As an industry, we need to be creative in strategically designing online as well as in-person events to maximize each of their impact.
To incorporate virtual long-term, focus on building your community
Communities need to be nurtured to blossom. By designing your event platform with year-round engagement in mind, attendees will have a reason to keep interacting with your content. At Showcare, we are focused on helping our clients build these communities by analyzing attendee behavior through platform activity, session attendance, Q&A, chat, and more. We provide event organizers with the expertise, team, and tools to extend an event's lifecycle.
Start creating your own community by offering a more personalized experience to attendees by learning about their needs, expectations, and preferences. Use these findings to create ongoing communications, develop relevant and valuable content, and plan smaller scale events more regularly. By staying connected, your organization doesn't need to worry about waning interest because you'll remain consistently top of mind for your audience.
Increased engagement can lead to monetization opportunities
Through sustained engagement with your audience, you'll build brand awareness, trust, and grow your community, leading to wider reach and more potential revenue opportunities. Yes, you can actually better your organization's bottom line by investing in virtual engagement.
"We care about our clients' growth, so we help guide them in evaluating their content and recommending the best monetization strategies," says Amilie Parent, President of Showcare. "By having a 360-degree view of their audience behaviors and preferences, we provide valuable insights to our customers to improve future event planning and content, marketing and sponsorship opportunities."
Year-round virtual communities provide the ability to learn more about your audience and their preferences through data that tells a story. By better understanding attendee behavior, you'll be able to deliver a more customized experience for your audience. Attendees understand the value in being presented with the content they want to see. This provides an opportunity for monetization. Membership or subscription models can be offered to encourage attendees to engage with the platform and its content on their terms. Do they want continuous access to ALL events and content? To a selection?
Put attendees in the driver's seat of their event journey experience.
Additionally, providing a virtual year-round community in conjunction with your in-person, digital, or hybrid events allows for increased sponsorship opportunities. With the insights gained from data, sponsorship can be better targeted, and more relevant, to your audience. Sponsors can share (and receive) value as part of ongoing content, discussion, and events. Audiences will have access to learning and networking throughout the year, not just during specific event dates.
Back to the Future—events edition
Events and communities have become easier than ever to access from the comfort of home. Not only do attendees get more customized, high-value content, but they can network without packing a suitcase, dealing with jet lag, or buying a plane ticket. There's no going back to how things were, but that's a good thing! With everything we have learned over the past year, events stand to become an even bigger part of an organization's overall business strategy. In a report from EventMB, research showed that 34% of planners consider increased attendance as the most positive result of pivoting to virtual in 2020, followed by lower overhead costs (27%). Virtual events have set a new standard by offering access to a larger audience, with more ways to engage over a longer period of time and at a more affordable cost.
Warning: two metaphors ahead
Ready?
Virtual and in-person events are not two rival sports team where only one can prevail.
We need to view them as if they're the seasonings in a recipe—the salt and pepper that will enhance the overall experience. The amount will be customized based on personal preferences but together, they amplify the impact of the dish. Ongoing virtual events and engagement paired with in-person events amplify the impact of your organization.
"Consistent engagement and novel content throughout the entire year, delivered both digitally and in-person, will become not just a nice-to-have but a must-have as attendees further explore the freedom to interact on their own terms," notes Jacob Lilly, Chief Technology and Innovation Officer at Showcare.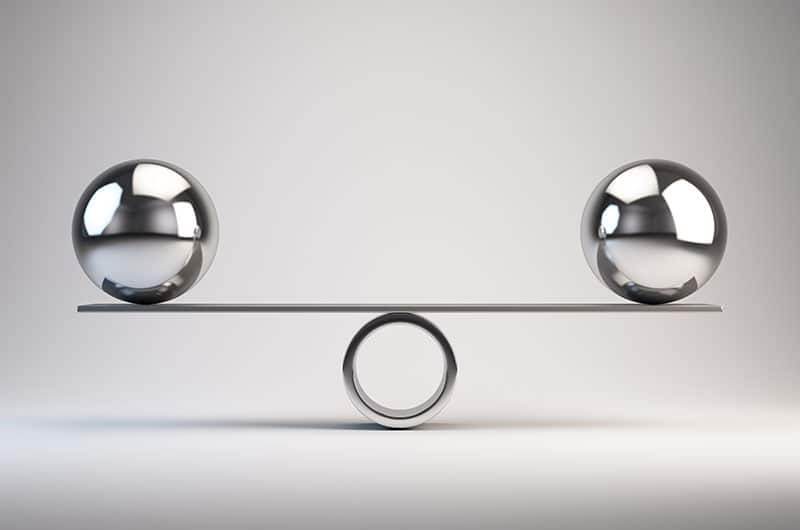 The virtual and in-person events scale should balance
More and more, event organizers are coming to this same conclusion: Giving equal weight to the virtual component during an event has become the new, exciting normal that can help brands forge more meaningful relationships with their community that will ultimately bring bigger returns.
"The last year, although turbulent, has shown that our industry can weather any storm," says Lilly. "More than that, it has shown that change, in all its forms, can lead us to places we did not quite expect."
Building on what we've learned and keeping the conversation going at all stages of the event journey allows audiences to engage and participate how they choose to on their terms, and in their preferred format. Offering a year-round engagement community as part of your event strategy keeps everyone participating and interested in one another, your content, and your organization.